IF! Italians Festival 2018, una quinta edizione esplosiva. Un caso di successo anche per noi di Mokamusic!
11 November 2018
Si è conclusa il 10 Novembre 2018, la Quinta Edizione di IF! Italians Festival. Tre giorni dedicati alla creatività internazionale ed al confronto su interessanti tematiche quali Human Intelligence, Artificial Intelligence, Data Analysis, Futuri Trend nell' Advertising.
Tra i protagonisti Mokamusic, content partner dell'evento, la cui musica composta da Philip Abussi, Co-Fondatore & Head of Music, ha accompagnato le bellissime immagini dei video di racconto delle tre giornate di evento.
Video IF!18 - Day 1 / Music: Understanding Folk
Video IF!18 - Day 2 / Music: Pure Whiskey
Video IF!18 - Day 2 / Music: Technological Evolution
Video IF!18 - Report Finale / Music: Fighting for the Glory
Interessante e coinvolgente il talk di Mokamusic "Musica e Social Intelligence: il super-potere aggregativo del Cromosoma 21" che si è svolto presso la sala GoogleLab alla presenza oltre che dei fondatori di Mokamusic, di Francesca Chialà, sociologa e consigliere del Teatro dell'Opera di Roma, e Lucia Ritrovato, Responsabile Comunicazione Strategica e Stampa di Fondazione per Roma - Auditorium Parco della Musica.
A condividere con noi questo emozionante momento i numerosi ospiti che sono intervenuti e che sono rimasti affascinati dall'Incredibile energia di Raffaele, dal suo legame con la Musica e la Danza, dal suo potere di diffondere Gioia incondizionata. Racconteremo la storia di Raffale in un documentario dal titolo "L'Isola di Raffaele", diretto dal regista romano Luigi Cecinelli, il cui trailer uscirà a breve...
Di seguito il racconto per immagini dei fotografi Matteo Capuzzi e Alecio Ferrari.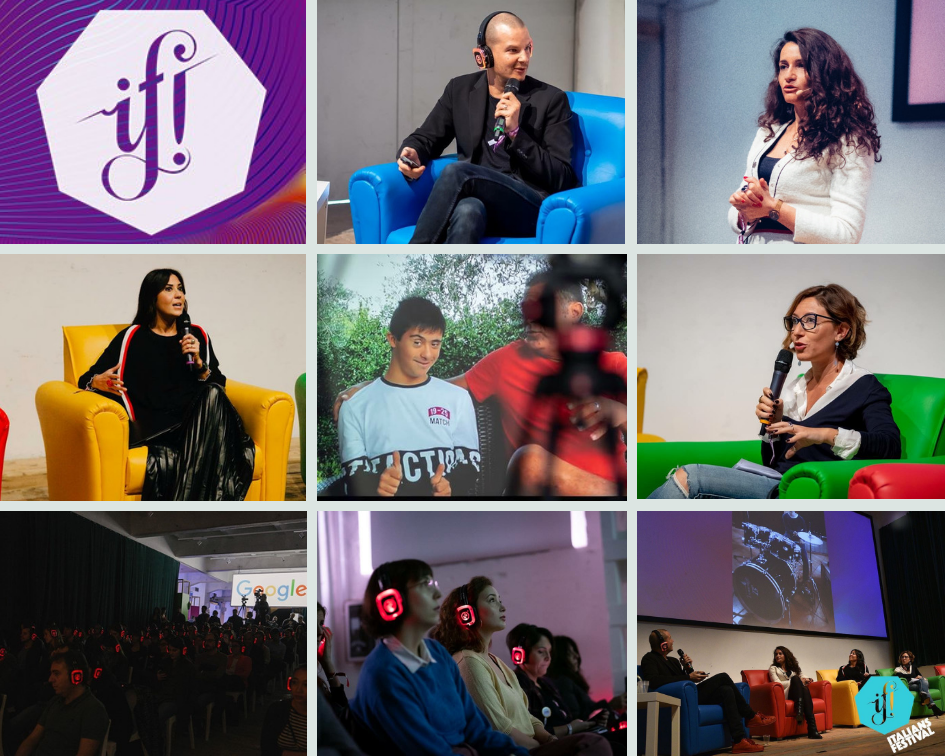 "Se Dostoevskij ci ricorda che la Bellezza salverà il mondo, aggiugo che l'Empatia potrà salvare e migliorare la nostra società...e la Bellezza del piccolo Raffaele ne è la rappresentazione empatica vivente". Francesca Chialà 
"La Musica è un linguaggio universale, la più antica forma di comunicazione, talvolta più potente della parola. Comunica in modo diretto e senza filtri con l'inconscio umano. Ci porta dentro alle nostre emozioni, ci conduce attraverso il nostro vissuto esperienziale e apre le porte della nostra memoria." Philip Abussi
"La musica e il suo potere aggregativo. La musica che semplifica il linguaggio e l'incontro. 
La musica che è la comunicazione più potente che esista." Lucia Ritrovato
"Immagina la tua vita senza Musica...La Musica è una delle più importanti espressioni della Human Intelligence, crea emozioni e connette le persone costruendo Community Reali. La Strategia Musica rappresenta una parte essenziale della moderna strategia di marketing e comunicazione dei brand innovativi, aiuta le azinede ad ingaggiare la propria audience in un modo nuovo, più diretto e profondo." Anita Falcetta